PARTNERS
Coaches
Gamze Bayraktaroglu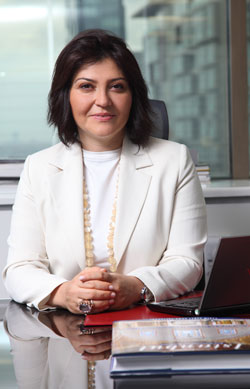 Gamze Acar Bayraktaroglu is an experienced trainer and an international coach. She is the co-author of a book called Managers as Coaches. She coaches teams and executives, and does group facilitation. She is an international mentor coach. She consults with organizations for creating leadership and coaching cultures. She leads projects within corporations to design and implement internal coaching and mentoring programs.
Gamze built her career in investment banking for 13 years. She consulted institutional foreign investors worldwide for their portfolio investments, led cross-border M&A projects. Changing her career path in 2005, she brought the first International Coaching School to Turkey. She founded her company Motiva in July 2007. She co-founded the Institute of Executive Coaching and Mentoring, as the local partner of Europe's leading coaching school (Academy of Executive Coaching).
Ms. Bayraktaroglu finds that coaching is a relationship which is based purely on trust. She finds great value in authenticity which enables her to grow and have better relationships. Both as a coach and as a trainer or facilitator, Gamze is able to flow with the participants to be open, sincere, authentic, spiritual, transparent, positive and playful. She builds relations with sponsors based on trust by caring about their needs, respect for them, confidentiality, fairness, kindness, being present, sharing and generosity, and solidarity. So they soon start to see her as part of their project not as a vendor or an outsider. She loves to be part of that journey, to support people to become much more than they think they are, to challenge them to get out of their comfort zone. Her purpose in doing so is to create ripple effects as powerful as possible so that the world changes in a positive way.
Gamze's coaching approach is a blend of Co-Active, Gestalt, NLP, Cognitive Therapy and Transactional Analysis. She is a graduate of Bosphorous University's Business Administration Department – one of the top business schools in Turkey. She completed the "Co-active Coaching" program delivered by CTI in 2005, Gestalt Individual Coaching in 2008, ORSC Team Coaching in 2009, Gestalt Team Coaching in 2010, and Systems Coaching in 2015. She is also accredited by the Academy of Executive Coaching in London. She enhanced her coaching practice with supervision coaching training and is a graduate of Personal Leadership Program of Columbia Business School. Ms. Bayraktaroglu is a board member of the European Mentoring and Coaching Council and member of ICF and the International Association of Facilitators.

Contact:
Peakinsight LLC
Phone: 970-247-1180
Email: coach@peakinsight.com

Back to Peakinsight Coach Network