PARTNERS
Coaches
Meg Mann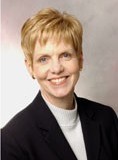 Meg Mann has been an external coach since 1995. Meg started her career as a trial attorney representing a very broad range of businesses in legal matters, specializing in corporate law, commercial trial and appellate practice. She worked for more than 2 years as in-house counsel and Director of Human Resources for a US based corporation; she became a consultant to KPMG for more than 8 years, developing a management and leadership program for them that trained managers and partners from more than 22 countries from Europe, Russia and the CIS. Meg's experience as an attorney/advisor to a broad array of businesses, including banks, service industries, manufacturers, construction contractors and suppliers, medical institutions, automotive and telecommunications companies, exposed her to many commercial situations, all levels of management within an organization and human behaviour; Her coaching and facilitation experience has likewise been quite varied – telecommunications, shipping, consultancy, professional service firms, banking, Internet technology, energy, manufacturing, commodities trading, public institutions.
The ICF Core Competencies serve as the foundation of Meg's coaching. She takes a more pragmatic approach versus using a lot of theory, and tends to be results driven and to see that the coachee is experiencing some early wins in the process. Meg is passionate about the benefits of coaching, and feels strongly that by building a culture of coaching, an organization can maximize potential of its leaders; it can grow and develop new leaders and ultimately this will have a positive impact on the bottom line. Coaching is a worthy investment in a company's people, and Meg enjoys being part of that process. Her mission is to help others to grow and develop as effective leaders/managers of others and in so doing discover their motivations, find fulfillment in their work and to make an impact on those around them. She also enjoys working with busy executives through phone coaching sessions.
Meg Mann has a Bachelor of Arts from Florida State University; a Juris Doctorate from Stetson University, College of Law; and a Masters of Science in Administration from Boston University Brussels Graduate Center. She has coached senior managers in the US, throughout Europe, Singapore, and Russia. Some of her clients include TMF Group China, KPMG, Nokia, Cargill, and other multinational clients, as well as for various European Union institutions.
Meg is actively involved with the International Coach Federation as an assessor and serving on various committees.
Contact:
Peakinsight LLC
Phone: 970-247-1180
Email:
coach@peakinsight.com
Back to Peakinsight Coach Network